89
If you are reading this Hostwinds WordPress hosting review, you may be on a super tight budget wondering if Hostwinds WordPress hosting is the best to create your website today? You probably saw an ad about them or simply curious about using their platform. If that is the case, then you are not alone.
MILLIONS of people just like YOU every day are in search for affordable web hosting that is dependable, trustworthy and has great customer support. Although there are many Hostwinds reviews out there, this one will give you the good, the bad and the ugly that you MUST know BEFORE joining!
What To Expect In This Hostwinds WordPress Hosting Review 2023?
There are many Hostwinds reviews out there. Some good, while others not so good.  In this Hostwinds review 2023, I will give you guys some honest info to help you to determine if they are a good cheap match for beginners or not.
Today, we will go over the company, the hosting plans, money back guarantees, uptime and other things such as security & customer support that I feel are important as a blogger. Hopefully with this you will be able to answer your questions about Hostwinds and get started today!
Disclaimer: This Hostwinds review has affiliate links. When clicked and a purchase is made, I may receive a modest referral or credit. You get a special discount off your hosting and this lets me enjoy my delicious peanut butter and jelly sandwiches:)
Hostwinds WordPress Hosting Review 2023: The Company
Hostwinds, at www.hostwinds.com has been around since 2010 and currently host over 500,000 websites & based in Seattle, Washington. Considering this fact also with a decade of experience in the web hosting field, they obviously know what they are doing.
Hostwinds are primarily known in the web hosting industry for their up to 500% faster speeds than competitors and great customer support. If you want to create a WordPress website, then Hostwinds is an awesome choice because they are great for WordPress hosting. They also have cloud hosting, dedicated, VPS hosting with great pricing. 
This video will give you a really Hostwinds reviews of the company, pricing, features and more.


Go right here to www.hostwinds.com to get started now!
Hostwinds WordPress Hosting Review – Which WordPress Hosting Plan Is Best For You?
The is a decision that only YOU can decide. I recommend that you start with a hosting plan that fits your budget and offers exactly what you need. I have their business hosting currently, but today I will talk a bit about the shared hosting Hostwinds plans. 
When you signup for the Starter plan which is only $5.24/month you will have everything you need to create your first website. It is the best hosting plan for beginners in my opinion. So if you are new to web hosting and this will be your very first website that you are creating today, then go with the Starter plan FIRST and then scale up later.
However, if you are looking for a great deal with some more resources, then perhaps you should try the Hostwinds Advanced at only $6.74/month. This plan will allow you to create 4 websites online.
However, if your needs change, then you can scale up to their Ultimate hosting plans at only $8.24/month may be best. This plan will allow you to create unlimited websites online. These are great especially if you just started a home-based business doing affiliate marketing, network marketing or perhaps would like to create an eCommerce store to sell products.
The cool thing is that you can get a FREE domain which is a $15 savings off considering what most domains costs. This way you can buy your domain name and hosting together all under one umbrella.
If you want to add on multiple domains then the VPS plan would best for this. Of course with VPS, you don't have to worry about slow speeds due to thousands of people that typically used shared plans. Another provider that offers comparable VPS hosting is Knownhost.
Renewal Pricing for Hostwinds WordPress Hosting
So something that I really love about Hostwinds pricing as you could see above is that is that it is super cheap to get started online. When you consider the promo deals for introductory pricing it is right in line with most web hosting providers out there.
For example:
Basic

hosting

plan is only $5.24/month

Advanced

is only $6.74/month
Ultimate is $8.24/month [Most Popular Plan]
These introductory prices are much lower than Hostwinds competitors. However, you should know that when your web hosting term is over, then the pricing will increase slightly.
Basic will be $6.99/month
Advanced will be $8.99/month
Ultimate will be $10.99/month
This increase that you see above is happens with ANY web hosting provider on the internet. However, something great about Hostwinds renewals is that there a much less when comparing other web hosting providers online such as Siteground WordPress hosting.
What I recommend that you do to save A LOT of money is to buy at least 24 or 36 months of Hostwinds web hosting today. Do this today and you will thank me later. When you do this you will save more both on the front and back end of your business. There is a 60 day money back guarantee! [You can write this off on your taxes.]
This is what I recommend all beginners to do, however if you can't do this, then get simply a term of 12 months of web hosting with the dropdown at checkout. This will still give you a good discount to kick off your website.

Hostwinds VPS Hosting Review
As part of this Hostwinds VPS hosting review, you should know also about their Hostwinds VPS hosting services.
When you are ready to upgrade from using shared hosting Hostwinds plans, then VPS hosting would be better. This will give you your very own virtual private server with dedicated resources for personal use.
Now there are several Hostwinds VPS hosting plans that you can select from depending on your resources needs. These come as unmanaged or managed packages based on your requirements. What I like is that these will come with better security and protection against DDoS attacks and malware.
Another huge benefits of getting a Hostwinds VPS hosting is that you can build your site from ground up. With shared hosting Hostwinds plans you are placed on a server and data center. With VPS hosting, you can pick all of these specs by yourself including CPU power, bandwidth, RAM or storage space. This way you pay for what you actually needs.
With Hostwinds VPS Managed hosting pricing starts at only $12.74/month up to$431.24/month depending on your specs selected. Their Unmanaged Windows however, starts at only $10.99 for 1 CPU, 1 GB RAM, 30 GB storage, and 1 TB of bandwidth.
Overall Features With Hostwinds VPS Windows Hosting:
99.9999% uptime performance
Free site migrations
Instant Scalability
Customer ISO's
Enterprise Firewall/Hardware
Solid State Drives
Snapshots
1 Gbps Ports
Redundant Network
Nightly Backups
Server Monitoring
Excellent Customer Support

Hostwinds Security
Next in this Hostwinds WordPress hosting review, I wanted to discuss another important aspect of running a business website online. Security for your website is extremely important. This is so important that if you overlook this aspect of your business it could expose your website to data breaches, malware, common vulnerabilities and other dangers.
Thankfully Hostwinds web hosting is a very solid premium host with great security. As a freebie, you will receive FREE SSL certificates.
When it comes to security, you should understand how this can affect your ranking in Google and the search engines. For example, on Google's blog some months back it highlighted how important it is to get SSL certificates for websites.
Why do you need them? These are particularly beneficial for online stores, eCommerce, and sites the collect information. If you don't have one, then Google will flag your website as not secure. Hostwinds as a web hosting provider understands this and has take steps to provide you a FREE SSL certificate for your website.
So if you plan on selling products or services on your websites, then SSL certificates will encrypt browser info and secure your customers credit card information. There are a few web hosting services similar to Hostwinds like Bluehost, Siteground, Scala Hosting, Accuweb, and A2 Hosting that provide FREE SSL certificates. 
They also perform nightly backups of your website. This is always great that way you can also restore your website with 1-click without losing any data or files.
Hostwinds performs server monitoring to detect malware, data breaches, and DDoS attacks. When you do WordPress hardening, it will the added security that your WordPress website needs to stay secure online.
Hostwinds understands how important this is for business owners and takes these measure to secure websites.
Hostwinds Refund Policy
Next we will go over the refund policy in this Hostwinds WordPress hosting review.
When you look online, you will notice that MOST, if not all web hosting providers online offer a standard 30 day money back guarantee to clients. Although this is not bad, Hostwinds goes above and beyond in this area. 
Hostwinds gives you a whopping 60 day money back guarantee on their web hosting plans. How do they compare to others?
Just to help you see the big picture in this Hostwinds WordPress hosting review, see what some of their competitors offer.
When you think about many of the best WordPress hosting like Kinsta they give you only 30 days.
Hostgator with web hosting plans starting at only $2.75/month offers clients a complete 45 days. To find out more about Hostgator web hosting, and get 60% OFF go here www.hostgator.com
Pressidium is a premium managed WordPress hosting who gives clients 60 days.

Inmotion hosting offers 90 days. For more details, go here to www.inmotionhosting.com.
Dreamhost Hosting offers 97 days. For more details, go here to www.dreamhost.com
However, when it comes down to it, Mochahost comes in strong offering a risk free 180 day risk money back guarantee which knocks everybody's socks off!

Why do I mention all of these competitors in this Hostwinds WordPress hosting review 2023? Because I want to be 100% honest with you and provide you the good, bad and the ugly. Hostwinds excels in many areas, while lacks in others.
But overall, I LOVE what Hostwinds offers and think that they are an awesome provider with amazing deals for beginners. Also they give you more than enough time to test them out.
Next in our Hostwinds WordPress hosting review, let's look at some additional benefits and uptime.
What I Love About Hostwinds? 
Free Site Migrations of Websites

Solid State Drives
Nightly Website Backups

Easy to use cPanel 

Super cheap for beginners to create websites at only $6.74/month
Unlimited Disk Space & Bandwidth

Recommended for WordPress hosting

99.9999% guaranteed uptime on servers

24/7 chat & email support

Up to 500%

Faster Hosting

Trustpilot

score 4.2 out of 5

Website Builders

Independent Owned [Not EIG]

Free Domain for 1st Year [$15 Value]
What I Don't Like About Hostwinds?
There is only a few cons that I wanted to report in this Hostwinds review. Although they are an all around reliable web hosting provider with fast page loads, they have 3 data centers globally. If you live here in the USA, then it's fine because they have 2 here. However, if you live in Europe, then there is only 1 data center there. 
But overall, their data centers and content delivery networks still provide blazing fast page loads and rock solid uptime. For me, these are the most important things that matter for any web hosting provider.
How is Hostwinds Uptime?
Amazingly Hostwinds has great servers for web hosting. They maintain 99.9999% uptime or better for their web hosting which is very impressive. There are not too many web hosting providers if ANY that I know who maintain such a high and consistent uptime.
Uptime is something that is extremely important for ANY online business. When people search for you online using keywords that you are targeting, if your website is down or not accessible for some reason, then your potential customer will click away. This means that you will lose money and sales and people will go to your competition in search engine results. 
You don't want to lose money right? Of course not! Nobody does. That's why you need to create a website with an affordable web hosting provider that has rock solid uptime.
As a beginner online you must understand why uptime is important.
Today you searched likely for "Hostwinds WordPress hosting review " and landed on my website. If you clicked on my web page and got an unavailable message, some error or under maintenance notice, perhaps you would have left & gone to another listing in Google right? Of course, that's what I would do if a website was down. But obviously, that didn't happen because you are still here reading this Hostwinds WordPress hosting review 2022! Awesome:)
Give yourself a big pat on the back and have a rootbeer lollipop. 
Let me tell you a little secret. Keep it between me and you. This is something that I learned quite some time ago that you should know regarding SEO rankings.
When a visitor clicks on your website and then leaves, this sends a huge signal to Google that your website is not a good result for a specific keyword. As a result, Google will rank your website lower in its listings which essentially hurts your SEO & sales. So having a web hosting provider with awesome uptime like Hostwinds just makes sense. That's why I recommend using them to build websites and blogs online!
When you get signed up here with Hostwinds web hosting, this is one aspect of your online business that you will not have to worry about. Hostwinds has rock solid uptime which also contributes to great website performance.
Should You Use Hostwinds WordPress Hosting To Create a Website or Blog?
Of course! But let me tell you that the purpose of this Hostwinds WordPress review is not to tell you what to do. I am not here to CONVINCE you about how great Hostwinds is. I along with THOUSANDS of other users online right now already recognize this and use their web hosting services. Will YOU? Or will get started with one of their competitors mentioned in this review?
Hostwinds has nothing to prove. You are here reading this Hostwinds web hosting review because you need a web hosting provider to create your website, right? Right. So if this is the case, then I highly recommend that you get started today! But ultimately, it will up to you to take action to get online to start making money with your business. 
When looking at Hostwinds decade long reputation and stability, they are definitely worth a try! And they are also super cheap and affordable for beginners to get started online for only $3.29/month!
Although they have many dedicated hosting competitors like  Siteground, Liquid Web, InMotion hosting and Namecheap, they provide far more value for your dollar than their competitors do for web hosting & managed needs.
Also, when you consider refund policies, most web hosting services only give you 30 day money back guarantees whereas Hostwinds gives 60 days!
When you look and compare uptime, the above have an average of 99.95 – 99.99% which is not bad, but again Hostwinds beats them all in this area with an average of 99.9999% uptime!
Uptime performance is important because it reassures you that your website will always be up and running online when people are searching for you on Google and other search engines. I mean, think about it, you made it here without any problems to read this awesome Hostwinds review 2023 today, right? That's why you should get started creating your website right now with Hostwinds!
Also, what I love about Hostwinds WordPress hosting is that they do offer domain privacy protection for only $5/year! This is an optional feature, but very necessary if you are serious about website security. Why? 
Hostwinds Domain ID protection will protect your domain and hide personal info online from spammers and hackers. Instead of details like your name, email, physical address, phone number and blood type being published and made available on the whois directory, Hostwinds will block and privatize it so it protects your info. Most web hosting providers that I have seen charge more for this service.
Godaddy for example charges $9.99 per year per domain. Bluehost charges $12/year if you have their Basic hosting plan. However if you get their Plus hosting, then it will be included automatically in your domain.  But either way, when you get started with Hostwinds today, you can add it out the gate that way you can keep everything under one umbrella! It is definitely worth every penny!
Easy To Use cPanel for Beginners
There are many web hosting providers that I have come across such as Cloudways that are great, but not easy to use for beginners. They are really great for developers and people who already know how to configure servers and setup websites. They lack the user-friendly aspect that beginners need when creating their first websites online.
When you start creating your website today with Hostwinds you will able to can use website builders like WordPress and Weebly that don't require any experience with html or coding.
Hostwinds WordPress hosting and shared hosting plans use cPanel dashboard just like most web hosting companies online. If you have ever used cPanel before, then you know that this where you can managed tools, resources, files, domain names, visitors, bandwidth, MySQL databases and more.
Also, cPanel is where you can do Hostwinds WordPress installations to create sites online in minutes. There is no need for experience with html or coding. It is a very easy to use interface for beginners online.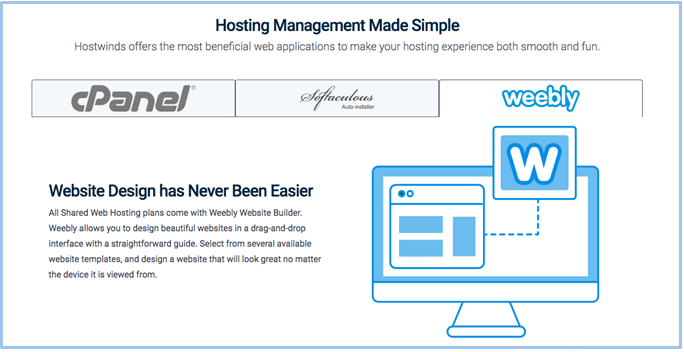 Get started today here at www.hostwinds.com! 
More Options to Buy Hostwinds Web Hosting
When it comes to paying for web hosting in general, most just providers allow you to use VISA and Mastercard. However, when you get started with Hostwinds web hosting today you will be able to use other forms of payment as well such as Paypal, Alipay, Skrill and even Bitcoin.
These additional options will provide you with more flexibility to manage your Hostwinds account globally.
Hostwinds Alternatives
To keep this Hostwinds review 2023 unbiased, I wanted show you some of Hostwinds competitors.
Although Hostwinds is a reliable shared web hosting hosting provider for WordPress, but I will give you a few Hostwinds alternatives to consider also that are also super reliable.
Rocket Hosting is awesome alternative to Hostwinds that has super fast page loads with better security and DDos protection. I also think that Rocket has faster phone, email & chat customer support than Hostwinds in my opinion.
Rocket Hosting is a 100% managed WordPress hosting with FREE CDN, SSL, daily backups and malware removal. They allow you to create multiple websites if you want under the same account.
Click this Rocket Hosting special link right here to get started NOW for only $1!  
GreenGeeks is another host that I have used. They are amazing for Green hosting and saving energy for our ecosystem. GreenGeeks has great security and WordPress performance on servers. They offer unlimited hosting with fast page loads and will even install WordPress on your for FREE.
To get GreenGeeks now for only $2.95/month + FREE Domain, with a click this special link here!
Bluehost mentioned about is another great Hostwinds alternative for beginners who want WordPress hosting for only $2.95/month. Bluehost has been over 20 years again is recommended by WordPress.org for performance just like Siteground mentioned about. I have their Plus hosting for another website that I have online and they have great customer.
Their Plus hosting is ideally for creating unlimited websites online and also gives you FREE SSL, CDN, domain privacy, and spam guard and $200 in marketing credits for Bing and Google Ads. Bluehost web hosting also offer a 30 day money back guarantee to users.
To get 60% OFF + FREE Domain with, click this special link HERE!
Hostwinds WordPress Hosting Review 2023 Conclusion
Hostwinds web hosting is an awesome choice to create your WordPress website today that is super affordable for beginners. They offer 24/7 customer support, security and uptime.
These avenues are extremely important for ANY web hosting company that host your data. However, it's hard to find all of these in every web host. For this reason I wanted to take the time to share this Hostwinds web hosting review today to help you to appreciate all that have under one roof.
Hostwinds has it all and with over 500,000 people that currently host with them, they also have a 60 day money back guarantee! The question now is, will you? Or will you get started with of the Hostwinds alternatives mentioned above? 
After reading our Hostwinds WordPress hosting review today, what do you personally think about their web hosting? Will you get started right now with the Basic plan for only $5.24/month? Or will you go for the Advanced or Ultimate hosting? There are many Hostwinds reviews out there, but tell me what you think about this one? I hope that you have much success online with your business this year going forward! 
Get started today here at www.hostwinds.com! 
Frequently Asked Questions:
Is Hostwinds free?
No Hostwinds is not free at all. They do not offer any free web hosting services. The shared hosting Hostwinds packages start at only $5.24/month to create 1 websites online. If you want to create more websites online,then perhaps their Advanced or Unlimited plan are best to use.
Where is Hostwinds located?
Although Hostwinds has 3 global data centers with its web hosting services, their main headquarters is in Seattle, Washington USA. The exact address if you are in their neck of the woods is 12101 Tukwila International Blvd Suite# 320.
What is Hostwinds? Who owns Hostwinds?
Hostwinds is provider of web hosting services for beginners, bloggers, small businesses, web developers and everyone in between. They came on the scene in 2010 and were founded by CEO Peter Holden.
Hostwinds is a private company that is NOT owned by EIG or Newfold Digital.
Since Hostwinds has been in business they have been providing shared, business, VPS and Dedicated hosting services. Depending on your personal needs, these plans will allow you to create websites, blogs or eCommerce stores online.
What is VPS Hostwinds?
The VPS Hostwinds plans allow individuals to occupy their very own virtual private server. Although VPS hosting in general costs a few bucks more, these offer a lot of benefits for users.
For example, you will get more resources dedicated specifically for your websites. You will get even faster page loads and better security and firewall to protect website data.
Whether you select a Managed or Unmanaged VPS Hostwinds package, you will be able to select the exact servers, terabytes, storage, bandwidth, RAM and CPU.
Is Hostwinds legit?
Hostwinds is 100% legit and had been in business since 2010. You will find lots Hostwinds WordPress hosting reviews online that confirm this fact. They have a great reputation on Trustpilot per users and have excellent phone, email and chat support.
They are NOT owned by Endurance International Group or Newfold Digital. They are privately owned web hosting provider based in Seattle, Washington.
How do you use Hostwinds?
Hostwinds is used to build websites, blogs or eCommerce stores online. To start build online, you must select one of their web hosting plans. They offer a 60 day money back guarantee
How do I create a Hostwinds website?
Go to www.hostwinds.com and create an account by selecting your preferred hosting plan. Once your account is setup you will have to login to your cPanel to then install a CMS like WordPress, Joomla, Magento, Prestashop, etc.
There are a couple of ways to access your Hostwinds cPanel. The simplest way is to type into your browser yourdomainname.com/cpanel and click enter.
For example, in my case it would: bestwebhostingforwordpress.net/cpanel. This will display a screen to enter your username and password from your Hostwinds account setup. This info is automatically sent to your email immediately after signing up.
Being that most users prefer WordPress versus other CMS, you simple have to install WordPress which takes just a few minutes to do. The entire process from logging to installing WordPress could be done in about 5 minutes. From that point you will simply have to pick a WordPress theme, preferred plugins and add your content.
Are there any other questions that were not answered in this Hostwinds WordPress hosting review? If so, feel free to drop them below in the comments area. I hope that you enjoyed this information today. If so, please link to this website and share this post online now! Have a great day.